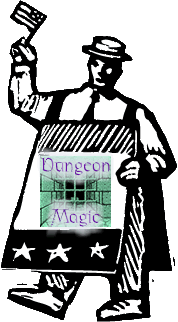 Endorsements
---
From: An email 3/10/03

Greetings, Eric & Naomi:

I wanted to convey to the both of you how thrilled we have been to "find you." We really wanted to find a community we could feel at home with, be friends with, and play hard with. Your party last night, and the grace with which you opened your home to us, left us both feeling absolutely wonderful (and perfectly, fabulously exhausted). We've been smiling all day, warmed by your hospitality and the freeing atmosphere of the group in general. To find a group of mature, sane, fun adults we have so much in common with makes us feel very welcome, and very relaxed. Thank you for the work you have put in to make your group (our group!) and your parties so welcoming.

As I have definitely earned it, I'm off to a long, hot bath and a good book. We look forward to seeing you at the end of the month.

Your Health,
Ivory


---
From: An email 12/10/02

Dearest Eric and Naomi,

Single tails snapping, floggers a swooshing, chains rattling, wax hardening on erect nipples, these are just a few of my favorite things. Can you just imagine sweet nun novice Julie Andrews blushing as she is singing this type of tune?

Conventional words are just not enough to express my love for you both. The way you open your home and hearts to us all when we come to your parties is truly an experience that lights my soul with inspiration and abandon. The atmosphere and ambience is one of friendly co conspiricy so to speak.

If anyone is like me, I already have an outline of what I would like to do before I get there, but the diffrence compared to other outings is that I don't feel the need to hurry to find my spot or place. It is a bit more difficult for Robin and I since she can't walk and I have to push her around ( lol, now thats a good play on words ). Which in and of itself is or can be a problem but because of everyone's sensitivity the issue becomes non existent and even complimentary at times.

Whenever we finish either as a whole or as couples you always manage to say goodbye in such a loving way that in a very instinctual manner I feel like I'm being pulled apart from my family and I don't want to leave. I guess it's a good thing I'm too old to have the type of temper tantrums that make me fall and glue myself to the floor, lol. But in all sincerity, you make us feel welcomed and loved and for that I thank you from the bottom of my heart.

I look forward in anticipation to our next party and hope that you recieve twice as much love than you give.

sirsoftailrider


---
From: An email 12/02/02

Master DungeonMagic:
Just wanted to drop a note to say that I was looking for sample slave contracts, as I am beginning the training of a female slave. Google listed your site and I was pleasantly surprised at your site, resources, and group plans. I would certainly refer other kindred spirits in the scene to your site. Thanks again and keep up the great work !

Regards,
M.K.
(Master K.)


---
From: An email 10/26/02

Sir Drake and Lady Naomi,

I enjoyed your website immensely. It is very informative and very well done.
Good work on the page, Sir Drake.
My partner and I have recently been experimenting in the life style. The area that I live in is extremely conservative and it is proving to be very difficult to find others with the same interests. We have found one good participant, an older woman who is teaching us a lot. It has been very enjoyable. I am learning that I am a switcher and that my partner is also. She does well in both roles.
Keep up the good work. I would really like to see more literature on the site. It has been good fodder for other ideas to try.

D


---
From: A Member 10/21/02

Greetings All:

A bit about parties with Eric & Naomi..... Before you even arrive at their place of paradise, as you near their home, your heart starts to beat a bit faster, your senses become magnified, you can feel a soothing warmth begin to surround you and for some of us, you can even feel somewhat of a wetness between your legs (that's when you're really getting close).

And once you enter their home, you know that you too, are home. And what will you find there? Firstly, two of the most gracious, delightful, helpful & beautiful people (both inside & out) that you shall ever be fortunate enough to meet in your lifetime. They, of course are named Eric & Naomi. You will also find a multitude of additional like minded, very special people who will fascinate you, delight you, befriend you, care about & for you & will be happy to assist you & before you know it, you will likely find yourself wanting to do the same for them. And before long you will begin to get that rare feeling, that though some of these are people that you may only know several months, you feel that they have been a part of your life forever.

Most any & every option is open to you there, whatever your desire(s) might be & perhaps as time passes you might discover that you have desires that you weren't at first, even aware of. And you can be sure that you will find someone there who will help you explore that, should you desire to do so. Your options are open & all of your choices are up to you.

The home itself is extremely well set up, giving you privacy should you desire it or an open forum, should that be your wish. A variety of equipment, toys & ideas you shall never lack for & the more courtesy & respect from those around you than you could wish for. A meticulous protocol for safety & cleanliness is of paramount importance & is adhered to by all & made easy to follow by your special hosts.

Quite simply the entire experience is truly the one that generally only dreams are made of, but can been found "real-time" should you ever be fortunate enough to grace the doorway of this paradise on earth..............

Miss L.


---
From: PartyMan's BDSM Events Newsletter,
September 22, 2002, Volume 2, Issue 61 - Midweek Edition


Another Excellent NJ Party Resource
I've mentioned the recently formed Dungeon Magic group before, but not for a few months. Anyone interested in attending wonderful private house parties at a secluded private location in Central NJ, should visit the website www.dungeonmagic.com. To join, you must submit an email and be interviewed, but all this care about security is worth it. This group throws two Saturday evening parties a month. Usually between 30 and 40 people (mostly couples, but also a few hot singles) attend their parties. I strongly recommend this group. Membership is free; members bring some food to the events as their only donation. The leader, Sir Drake, is a gentleman and a classy guy. And his lady is a lovely hostess. Join the NJ perverteratti for some of the best small to medium size parties I've been to.


---
From: PartyMan's BDSM Events Newsletter,
May 30, 2002, Weekend Edition, Volume 2, Issue 35

Dungeon Magic Party (Central NJ) - Sat, June 1st - My friends Eric and Naomi will be hosting a "Flights of Fantasy" Play party this coming Saturday in central NJ, starting at 8pm. This will be my first time visiting their place, and I am looking forward to it. This is a private residence with a dungeon in the basement. You must contact them in advance to RSVP and get the address. For more information, visit www.dungeonmagic.com or email rsvp@dungeonmagic.com. This is the PartyMan Pick of the Weekend.


---
From: PartyMan's BDSM Events Newsletter,
April 24, 2002, Weekend Edition, Volume 2, Issue 26


Website of the Week
I met the Webmaster of this week's Website of the Week and his lady this past weekend at the Pocono's Bed and Breakfast where we hold our fantasy weekends. He is a gentleman and a pervert. And he puts together a pretty nice web site also, including doing his own digital photography. His group is focused on providing small, intimate Fetish play parties in the central NJ area. I understand there's one this coming weekend. Send an email to invites@dungeonmagic.com. Take a look at www.dungeonmagic.com and I think you'll be impressed. Enjoy!


---

I visited your website and I was very impressed!! and I am a professional webmaster/website developer for AT&T.

Yours is the only website I have ever seen that made an appropriate and tasteful use of sound on the website.

TinaRock


---

Hi Eric & Naomi,

Very nice web site. Just had to tell ya.

LadyBlue


---

By the way love the site

Thanks

ICE


---

I really enjoyed how you set up your party list, it's very easy to navigate and great to see whose coming etc.
Whomever designed/wrote your site did a great job.

Hilton of Purple Passion

Note from Sir Drake - entire website designed and built by me!


---

I took a look at your website & it is fabulous!

Sir Marcus & his little sub, Lisa


---

This is one of the best sites and very well done.

Debi


---

Great informative site, keep up the good work.

Michelle


---